Lotus - beige openwork set with trousers
A two-piece set in the BOHO style in a classic beige color. Interesting weave, blouse finished with a tie. Loose cut trousers tied at the waist. Maxi length pants.
Description
Discover the magic of boho style with our latest two-piece set - a masterful combination of elegance and freedom. It's the perfect solution for the modern woman seeking fashionable clothing synonymous with lightness and comfort. Our set, featuring a lace top and long pants, is like a vacation dream turned into reality. The lace top is a true gem of our collection. It has a charming front tie that allows for adjustment and customization to your silhouette. Delicate lace embellishments add a touch of femininity and lightness, while allowing your skin to breathe on hot summer days. The long pants are the quintessence of boho style. Their loose fit guarantees maximum freedom while presenting an incredibly stylish look. Lace details that reveal the skin create interesting contrasts and add a unique character to the pants. They are perfect for the beach also for evening strolls along the seaside promenade walk.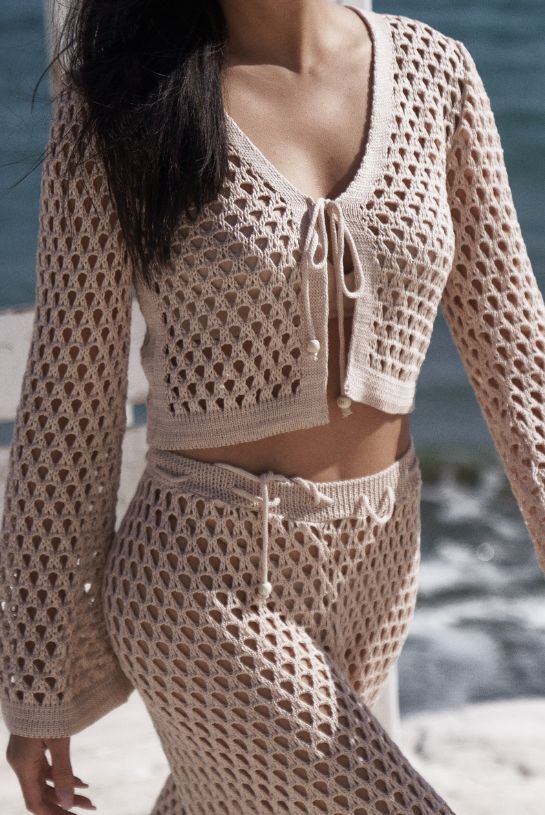 This set is made from high-quality materials that provide comfort and durability. The lace elements not only look attractive but also serve a practical purpose by ensuring breathability and lightness.Beach fashion is no longer limited to swimwear alone. Modern women's fashion is all about diversity and expressing oneself through clothing. Our two-piece set is the perfect choice for vacation - whether you plan to relax on the beach or enjoy urban strolls and evening outings. Imagine yourself in our set - feeling the gentle breeze softly moving your top and pants, hearing the sound of the sea, and the sun gently warming your skin. It's the essence of summer days captured in one incredibly stylish set. Boho fashion has never been so beautiful and accessible. Make this vacation unforgettable with our lace set.
| Size | length of trousers on the outer edge | blouse length | sleeve length | waist circumference | hip circumference | the length of the trousers on the inside edge |
| --- | --- | --- | --- | --- | --- | --- |
| XXS/XS | 105 | 39 | 60 | 58-65 | 88-95 | 79 |
| S/M | 106 | 40 | 61 | 66-73 | 96-103 | 80 |
| L/XL | 107 | 41 | 62 | 74-81 | 103-111 | 81 |